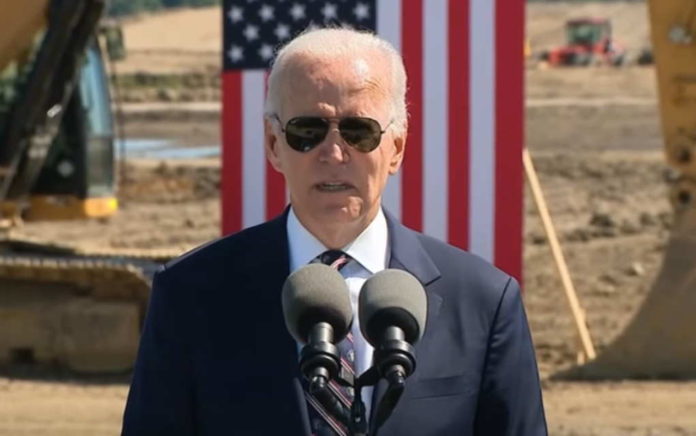 No one doubts the Democrats don't care about everyday Americans. But there some lines no one should cross.
And Joe Biden can't hide after his plan to experiment on homeless people was exposed for all to see.
The Democrat Party has been pushing the most radical cultural agenda the world has ever seen.
One of their biggest talking points over the past few years has been so-called "gender affirming care."
If a biological man believes he's a woman, then we should pump him full of hormones and permanently alter his body through surgery says the Left.
And they've been happy to try these experimental medical procedures on children and other vulnerable groups in America.
Now Joe Biden will be bringing these experiments to the streets of America to the homeless.
The Biden administration unveiled a strategy to combat homelessness on Monday, calling for emergency shelters to teach homeless individuals how to provide "gender-affirming" services, as well as promoting "gender-affirming care" as an inclusive component of caring for homeless people.
"The key components to effective emergency shelter include culturally appropriate, gender-affirming, and specific, low-barrier access and housing-focused services aimed at rapid exits back to permanent housing," according to the plan released by the U.S. Interagency Council on Homelessness.
The proposal directs federal agencies to collaborate with localities to give "guidance, training, and technical assistance" on "inclusive models" such as "gender-affirming care" and drug-harm reduction measures.
Partnerships between housing, disability, and health care organizations are encouraged in order to "create better resources for providers to connect program participants to culturally appropriate and gender-affirming housing resources."
The United States Interagency Council on Homelessness is made up of 19 federal agencies, and its basic ideals include racial fairness, decriminalization, and inclusion.
To combat homelessness, the Biden administration has access to billions of dollars. The 2021 American Rescue Plan included $5 billion for emergency housing vouchers and another $5 billion for a homelessness program.
According to endhomelessness.org, there will be 580,466 homeless persons in 2020, the highest number since 2013.
The White House has marketed gender-affirming care as "lifesaving" in response to Republican efforts at the state level to prohibit transgender treatments for minors.
This year, the Biden administration established the first government harm reduction program, providing $30 million in incentives for the purchase of drug paraphernalia such as syringes and "smoking kits."
Its homelessness strategy will "promote the integration of high impact harm reduction interventions within emergency shelters."
The homelessness strategy also emphasizes the significance of developing alternatives to "criminalization of homelessness."
This includes a condemnation of efforts to clear homeless "tent cities" a plan used this year by Democratic-leaning communities such as Seattle, Los Angeles, New York City, and Washington, D.C.
"As elected leaders respond—and not always in the most effective ways—some have resorted to clearing encampments without providing alternative housing options for the people living in them," according to the plan.
The homeless plan makes no mention of which transgender or harm reduction services are supported or encouraged.
Stay tuned to the Federalist Wire.