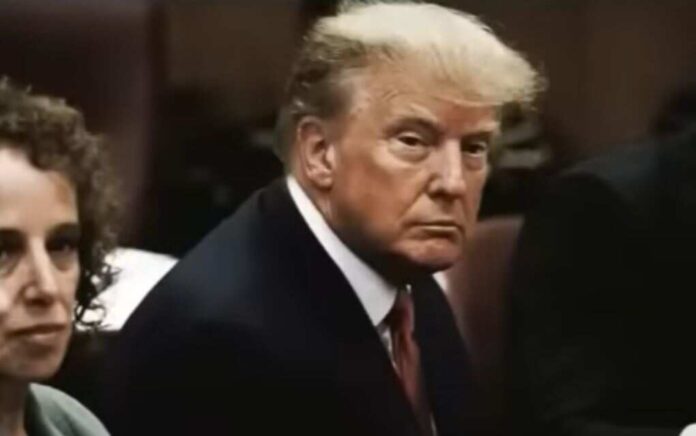 Trump has been dealing with constant legal attacks from Democrats. It's been hurting his ability to campaign for 2024.
But Donald Trump was handed one report that changes everything.
Ever since the Soros-backed DA Alvin Bragg decided to arrest and charge Donald Trump with 34 felonies, pundits have questioned how this would affect Trump's 2024 election effort.
On one hand, the obvious targeting of a political opponent has riled much of the Republican base and sent millions of campaign contributions to the Trump campaign.
On the other hand, there is a very real possibility that a gag order could be emplaced eventually, forcing Trump to forgo discussing the case.
Then there was another obvious problem – who is going to take the political flak and endorse a candidate who is being investigated for felonies and has a lot of political baggage.
But it doesn't seem Trump is having any issues, with many of those concerns seemingly not affecting him at all.
In fact, Ohio Representative Jim Jordan said on Friday that he will vote "100% for President Trump" in the 2024 presidential election.
The Chairman of the House Judiciary Committee, who has consistently supported the previous president, told Fox News that Trump has a track record of keeping pledges, especially in the face of tremendous bipartisanship.
"No one has demonstrated that they will do what they said and get things done like he did, and he did it with everyone in that town against him. And that's what I still respect about President Trump, and I'm for him all the way," Jordan told the outlet.
While he is "friends" with the three other Republicans who have announced their candidacy, former South Carolina Governor Nikki Haley, former Arkansas Governor Asa Hutchinson, and entrepreneur Vivek Ramaswamy — as well as Florida Gov. Ron DeSantis and former Vice President Mike Pence, who are expected to enter the race — Trump remains the congressman's top choice for the role.
"I just talked to Vice President Pence. Great guy … Governor DeSantis, a great guy. When we formed the Freedom Caucus, there were nine of us. He was one of the nine. But I am 100% for President Trump," he said.
In recent weeks, the Republican has stood by Trump in the face of Manhattan District Attorney Alvin Bragg's "politically motivated" prosecution.
Jordan initiated an investigation into the case last month, which hit Trump with 34 felony counts of manipulating company records, and requested that Bragg give over papers and testify about the prosecution, which Jordan termed a "unprecedented abuse of prosecutorial authority."
Jordan issued the subpoena after Bragg declined to help with the House Republican probe.
Bragg filed a lawsuit against Trump on Tuesday, calling the demand a "unprecedently brazen and unconstitutional attack" on the case.
Jordan will host a congressional hearing titled "Victims of Violent Crime in Manhattan" in New York City on Monday, alleging that Bragg has turned a blind eye to the city's crime while pursuing his Trump investigation.
Jordan's endorsement comes as Tennessee Senator Marsha Blackburn endorsed Donald Trump for president, adding to the growing list of elected Republican officials supporting the former president.
"Under President Trump, our economy was booming, gas prices were low, and inflation was under control. Our order was secure, our adversaries feared us, & our military was strong," Sen. Blackburn, R-Tenn., said in a Monday tweet.
Stay tuned to The Federalist Wire.