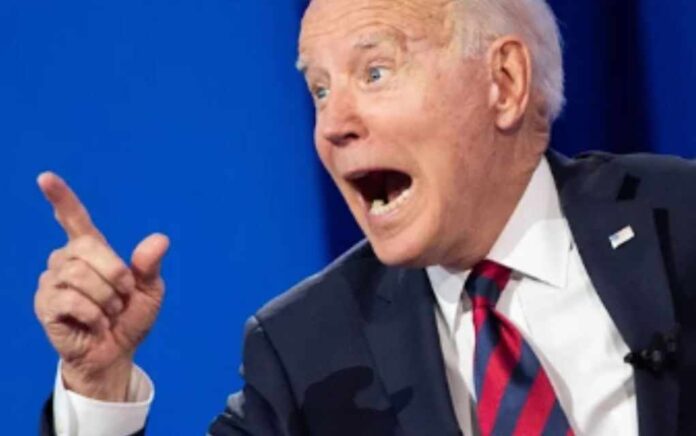 Biden is a liability for America. This latest incident proves why.
And Joe Biden has a meltdown that leaves Democrats sick with worry.
At 80 years old, Joe Biden is not showing any signs of getting younger.
In fact, if he were to win a second term to the White House, he would be 86 by the time he left office.
This has many Republicans and even Democrats worrying if he's fit to run again.
And at a recent fundraising event, he didn't do anything to ease those worries.
According to a White House pool report, President Biden told the two dozen who were in attendance why he decided to run for president in 2020.
He mentioned Charlottesville and the events that transpired there in 2017 as his reason for running.
After a few minutes, he went into that same story again, almost exactly word for word.
Joe Biden tells the same story nearly word for word within a span of a few minutes.

This is what people who are fine and not cognitively impaired do. pic.twitter.com/ReiyDFZwKu

— Jason Howerton (@jason_howerton) September 21, 2023
Biden even had prepared notes that he was reading from, but that still didn't stop him from making his latest gaffe.
For the President, it's a good thing the event was only in front of less than 50 people, otherwise this blunder of his would be even more publicized.
But the point still remains the same. Joe Biden is clearly unfit to run for president again.
His policies are already bad enough, but mix that with signs of cognitive decline, and you have a firestorm that's almost impossible to stop.
Rightfully so, the public did not take lightly to Biden's mental slip-up.
"This is normal…Completely normal," Steve Guest said on X (formerly Twitter), a former spokesman for Ted Cruz.
This is normal…. Completely normal… https://t.co/3FiFlFyKTY

— Steve Guest (@SteveGuest) September 21, 2023
Joe Biden continues to show how he's completely incapable of running this country.
Democrats better not try and make an excuse for these mental mistakes, because the American people won't buy it.
Stay tuned to The Federalist Wire.