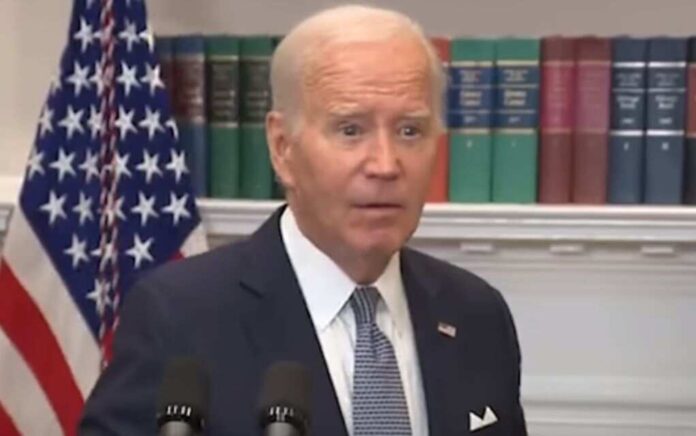 President Biden's failures can't be hidden any longer. Even Democrats are starting to turn on him.
Because now a U.S. Senator has put Joe Biden on blast for this massive mistake.
On Wednesday, Arizona U.S. Senator Kyrsten Sinema expressed her outrage that the federal government was allocating $100 million in aid for migrants to New York City rather than her state of Arizona, which she claims is taking the brunt of the border problem, along with Texas.
Her home state of Arizona, as well as neighboring Texas, have been experiencing unprecedented numbers of illegal immigrants trying to enter their states, she said.
During a recent event in Yuma, Arizona, the now-independent senator remarked, "What we're experiencing here in Arizona is matched only by what folks are experiencing in southern Texas."
"Those are the two communities that are experiencing this crisis. The rest of the country is seeing some elements of it, but we are facing the brunt."
On Wednesday, Democratic Senate majority leader Chuck Schumer and House minority leader Hakeem Jeffries announced that the city of New York would get $104.6 million from the Federal Emergency Management Agency to aid with the influx of thousands of migrants.
Sinema has stated that it is "wrong and unfair" that funds are being distributed elsewhere outside south Texas and south Arizona.
"The fact that a yeoman's amount of this money went to New York City, in my opinion, is wrong because they are not a border state and they are not facing the kind of pressure that we are facing here. I want you to know that I am continuing to fight this, and I am livid."
The city of New York, which is struggling under the weight of an influx of illegal immigrants, has repeatedly begged the federal government for assistance, and 54 Democrat politicians from the city have urged the federal government to step up border enforcement. According to the New York Post, the city has seen an influx of approximately 93,200 migrants since spring 2022. Every week, around 2,500 new migrants enter the city.
Adams declared in January that the influx of newcomers had reached a "breaking point" for the city. He went to El Paso, Texas, on the border and pressed the Biden administration to do something about illegal immigration.
"We're pointing the finger at our national government," Adams said.
"This is a national problem. We must have real immigration reform, and we must immediately have a short-term fix of making sure that the cost of this does not fall on our local cities."
Adams's appeal was met with an offer of a federal liaison from the White House, but no further funding.
After the Roosevelt Hotel in New York City, which has been acting as a makeshift processing facility for asylum seekers, reached full occupancy over the weekend, scores of migrants were seen on camera sleeping on the ground outside the hotel earlier this week.
According to a story in the New York Post, migrants waiting to enter the shelter crowded sidewalks for three blocks.
The Washington Post has obtained early data from U.S. Customs and Border Protection showing that, despite the extreme heat, the number of illegal border crossings increased in July. This ran counter to the seasonal trend of fewer migrants being apprehended during the summer.
In southern Arizona, where temperatures have averaged over 110 degrees for the past month, the increase in migrant apprehensions has been particularly pronounced.
CBP figures show that in February 2019, agents in the Tucson region made almost 40,000 arrests of illegal aliens, the highest monthly number for the area in the past 15 years.
Stay tuned to the Federalist Wire.