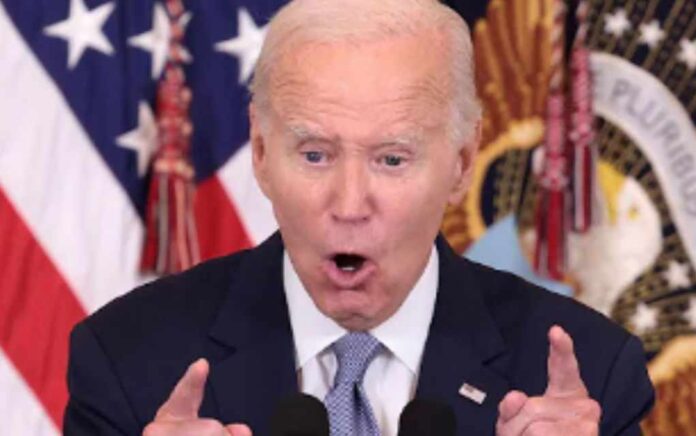 Joe Biden has been dealing with backlash from all of America for years. His destructive policies have finally started taking their toll.
And now Democrats have presented Joe Biden with a chilling ultimatum.
Democrats have made it clear that Joe Biden's campaign talking points and strategies aren't going to cut it.
Democrat allies to Joe Biden are encouraging him to move away from his "Bidenomics" talking point, as it has proven that it does not garner any support.
The term "Bidenomics" was brought out by Democrats hoping that it would lead to more support for the 2024 election run.
However, it seems to have even done the opposite and Biden is losing support.
Now it is clear: President Joe Biden's economic agenda, dubbed "Bidenomics," has failed to move the needle with voters.
Multiple Democrat politicians who support Biden have made it clear that the branding is one that causes them to be concerned.
Bidenomics is not resonating with voters and it will not gain any support with Democrat voters.
Bidenomics is based on the belief that government spending and investment can stimulate economic growth.
However, voters are not convinced that Bidenomics is working.
The American people have seen what "Bidenomics" does firsthand.
Gas prices, grocery prices, energy prices, and just about everything else, has completely skyrocketed since Joe Biden took office.
The average American is struggling to barely get by and pay for simple things.
One Democrat aide stated that "It's the worst-kept secret that Democrats are not excited about Joe Biden. The White House team's attempt to repackage popular Democratic wins and policies as 'Bidenomics' is not going to help Biden's standing in the polls. People are frustrated with the economy right now, and claiming 'Bidenomics' is working is both out of touch and bad strategy."
Another prominent Democrat, Congressional Black Caucus Chairman Steven Horsford, also had negative things to say about "Bidenomics."
He said, "With all due respect to the president, to the White House, this is not so much about them as it is the people who are benefiting by the policies that they came out and demanded. We have to do a better job framing this not so much for one person — for the office of the presidency — but for the people."
This congressman is certainly right: the American people are not interested in what is best for their president or for the White House; we want what is best for us.
American's want to be able to go back to being able to afford to live and provide for their families.
The American people want nothing to do with "Bidenomics" even as the president continues to push his failed policies.
Stay tuned to the Federalist Wire.