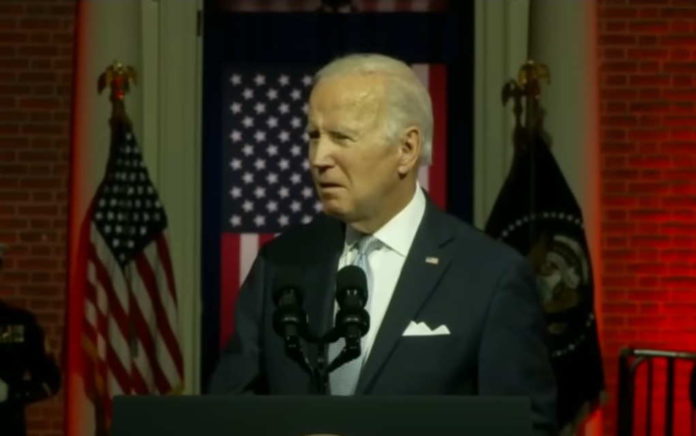 Scandals have dogged Biden's presidency one after another. His filthy laundry is out in the open for everyone to see.
Now, one claim has the potential to bring down Joe Biden and the FBI.
The Biden Administration has had a challenging few months.
In actuality, the train derailed before Biden was even sworn in.
Information on how the FBI essentially served as Joe Biden's cover during the 2020 presidential campaign has begun leaking out.
CEOs of major tech companies, like Mark Zuckerberg, have even acknowledged that the CIA urged them to discredit the Hunter Biden laptop claim because it would have an impact on the election.
The American people is gaining a rare insight into the inner workings of the Deep State as new material becomes available.
And now, allegations claim that FBI Agent Timothy Thibault misled Senator Chuck Grassley by withholding information from Tony Bobulinski, a whistleblower.
According to the New York Post:
Timothy Thibault, the FBI agent alleged to have interfered with an investigation into Hunter Biden, was assigned by the Washington Field Office as "point man" to manage whistleblower Tony Bobulinski, the first son's former business partner, before the 2020 election — but he suppressed his damning revelations, sources say.

Bobulinski gave the FBI the contents of three cellphones containing encrypted messages between Hunter and his business partners, along with emails and financial documents detailing the Biden family's corrupt influence-peddling operation in foreign countries during Joe's vice presidency.

But his evidence appears to have fallen into the same black hole at the FBI as Hunter's laptop, never to be seen again.
Furthermore, without giving a good explanation, Thibault requested a careful examination of Hunter Biden's laptop and information potentially damaging to the Bidens.
Additionally, the investigation into Hunter Biden's suspected "criminal financial and related activity" was ordered to be closed by the then-assistant special agent in charge Thibault.
In a scathing letter to FBI Director Christopher Wray and Attorney General Merrick Garland, Senator Grassley stated: "In October 2020, an avenue of additional derogatory Hunter Biden reporting was ordered closed at the direction of ASAC Thibault."
And now that he's come under increased scrutiny for his venomous anti-Trump social media remarks, Thibault has made the decision to cut his losses and depart the FBI.
Additionally, according to Grassley, an evaluation opened by FBI Supervisory Intelligence Analyst Brian Auten in August 2020 was utilized by an FBI headquarters team to "improperly discredit negative Hunter Biden information as disinformation and caused investigative activity to cease … Verified and verifiable derogatory information on Hunter Biden was falsely labeled as disinformation", according to the New York Post.
Election tampering through flagrant omission by the FBI is reaching a boiling point.
Since the 2020 presidential election, they have undoubtedly been causing trouble for the Bidens.
And who else might be involved in this cover-up is anyone's guess.