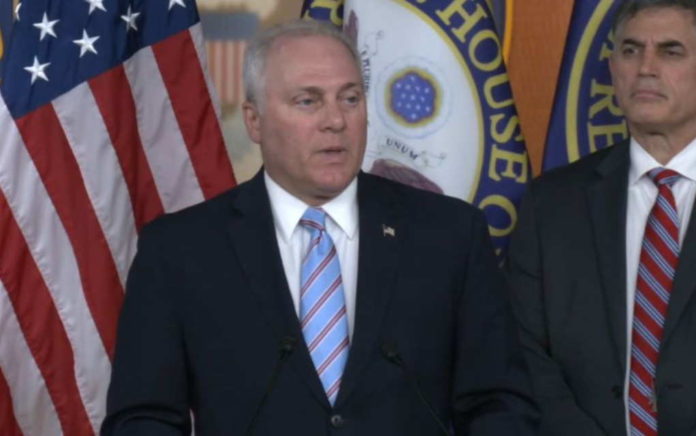 Democrats fear what will happen in November. They are aware that their razor-thin majorities could evaporate, but they are unsure of who would be caught in the crossfire.
And this Republican unveiled his plan to take down Biden and the Democrats.
The American people have made it abundantly obvious that they oppose Biden. He is incompetent, and it doesn't take a genius to recognize that.
He is to blame for the blazing 8.3% inflation rate, which he disputes as an issue.
In less than a year, more than 2 million illegal immigrants have crossed the border, which Kamala Harris claims is safe.
And a politicized FBI is vilifying and targeting Republicans.
Americans desire genuine reform and the punishment of those responsible for the downfall of our magnificent nation. And precisely that was revealed by this Republican.
The House Republicans' strategy to save America was unveiled on Friday by U.S. Representative Steve Scalise.
He began by criticizing the Democrats for their failing policies and their resistance to aid the common person, saying:
In less than two years, President Biden and Speaker Pelosi have forced an agenda that wrecked our economy, driving inflation to alarming levels. Far-left socialists have opened our southern border to illegal immigrants, made us dependent on hostile foreign nations for our energy, and empowered our enemies overseas. Week after week, Democrats refuse to consider any bills on the House Floor that would address the serious problems that families are facing.
He continued by listing a long list of Democratic failures in America, including the "Inflation Reduction Act," which doubled the size of the IRS and raised taxes on everyday Americans while wasting $10 trillion in major spending bills.
As drugs flood across the southern border, crime is on the rise and drug abuse is at an all-time high. The easy fix proposed by the Republicans? "Stand with law enforcement and secure America's border," Scalise said.
Not only that, but the Biden administration's targeting of concerned parents at school boards as "domestic terrorists" will come to an end with Republicans committing to "passing a Parents' Bill of Rights, parents will have a stronger voice, and it will be easier for them to get involved with their kids' education."
The way Scalise closed this plan, promising to hold Joe Biden and Democrats responsible for their mistakes and abuse of the authority entrusted to them by the people, was particularly striking.
Despite control of both chambers of Congress, Democrats have refused to investigate the Biden administration's failures and mismanagement of our country. This is a clear dereliction of duty.

Enough is enough!

Republicans will use the power of congressional oversight to hold the Biden administration accountable.

President Biden and Speaker Pelosi are more interested in enacting their far-left agenda than helping families in need.

We understand the American people's struggles, and we have a bold conservative plan that will reverse Biden and Pelosi's disastrous policies and get our nation back on track.
Over the past six years in Washington, the Democrats have been playing with fire.
Republicans are now being forced to play more offense than they have in previous years since it has only served to further polarize the country.
The last thing Joe Biden wanted was a planned all-out assault on the Democratic Party just weeks before a significant election.
He is now concerned that his entire house of cards may collapse.
Stay tuned to The Federalist Wire.