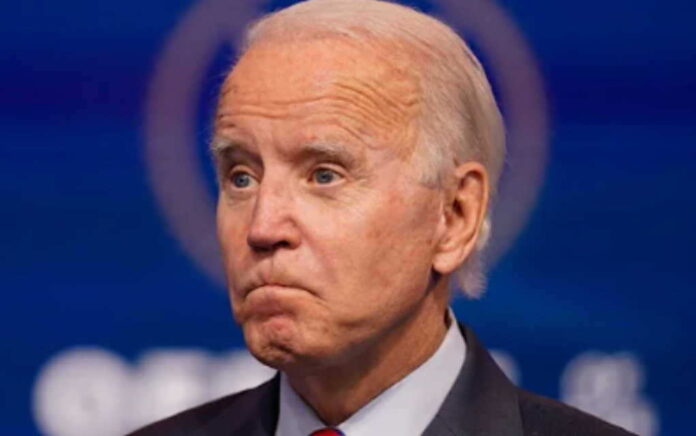 There's a fine line no one should ever cross. Biden and the Democrats just crossed it.
Because what the Biden regime wants to do to children is simply disgusting beyond belief.
Conservatives have been raising the alarm about children being targeted by radical Left-wing extremists for their political games for years now.
Those on the Left have been unashamed in admitting that they want minors – children, even – to be able to receive gender transition "treatment."
These extremists have criticized states like Tennessee for passing legislation that bans gender transition surgeries for children, something that basically most Americans strongly agree with.
But the Biden administration doesn't agree at all.
In fact, Joe Biden even once sat down with a popular transgender "influencer" by the name of Dylan Mulvaney and said that he doesn't think it's right for conservatives to protect children from transgender ideologies.
Joe Biden says "it's wrong" for states to ban sex reassignment surgery and puberty blockers for kids. pic.twitter.com/INu6ncxHQ3

— RNC Research (@RNCResearch) October 23, 2022
If you thought this was good ol' Joe not understanding the question and just trying to get through the interview, you'd be wrong.
The whole Biden administration is doubling down on this radical far-Left policy of letting children get "gender-affirming" treatment like puberty blockers.
Earlier this week, the Health and Human Services Secretary Xavier Becerra was asked by the House Appropriations Committee whether the Biden administration supports taxpayers funding gender transition surgeries for minors and children.
Becerra tried to dance around the question and give a non-answer, but Republican Andy Harris (R-MD) was having none of it.
"These are gender mutilating surgeries. Do you really want to pay for that under the CHIPS program? Is the president serious? He wants to take our childhood health insurance program and pay for this. Yes?" Republican Harris asked Becerra.
Becerra replied saying he wants "to be careful how I answer this, because I answer this as a secretary, but I also answer this as a father."
If he's a father, then this should be an easy question. Any rational father wouldn't want their kid to be mutilated.
Harris sternly asked Becerra again, "Sir, I'm just asking. Be direct. This is a very simple question. Does the president want to use CHIPS money to pay for gender mutilation surgery?"
In response, Becerra just said that he wants to make sure "everyone in America has access to the health care they need" whether child or adult.
They went back and forth a little bit after that, but Becerra eventually seemed to signal that he even supported children getting gender transition surgeries in states where it is outlawed and regardless of their age.
"So even in states where that underage surgery is illegal, your position would be that you should be paying for those surgeries?" Harris asked.
"… We make sure that any federal dollar that goes out is to provide the care that medical professionals say that, that individual needs," Becerra responded.
"I see, regardless of their age?" Harris asked of Becerra.
Becerra chillingly responded with "a medical professional has to make a decision."
The truth is that Becerra is following orders directly from the White House.
In June of 2022, Joe Biden signed an executive order that ordered the HHS to find ways to give children more "gender-affirming care" and get around state laws.
This is the official stance of Joe Biden and the Democrats today. It's radical, extreme, and disgusting.
Stay tuned to the Federalist Wire.