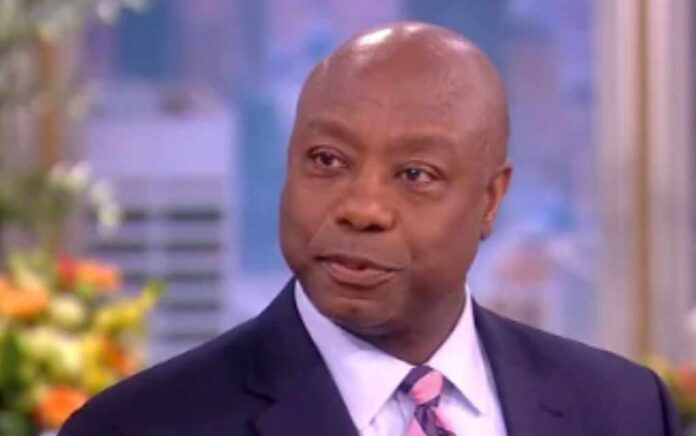 Biden is used to criticism lobbed his way. But this might be the worst of it yet.
And this presidential candidate dropped the hammer on Joe Biden with a massive attack.
U.S. Senator and Republican presidential candidate, Tim Scott (SC) is trying to do everything in his power to gain some ground in the polls.
According to a FiveThirtyEight national poll, Scott sits in seventh place with 2.2% of the vote. He's firmly behind first place candidate Donald Trump who is at 58%.
But Scott isn't backing down, especially with his criticism towards President Joe Biden after Hamas terrorists attacked Israel last weekend.
The Senator from South Carolina insinuated that the bloodshed from the attack was in part Biden's responsibility.
"Joe Biden has interfered in Israeli domestic politics and tried to weaken Prime Minister Benjamin Netanyahu. He slow-walked inviting him to the White House and practically made him beg for the invitation while the world sat back and watched," Scott said while giving a speech at the Hudson Institute.
"Biden has blood on his hands."
While Hamas carried out these attacks, Joe Biden has blood on his hands. pic.twitter.com/My67fGOPpv

— Tim Scott (@votetimscott) October 10, 2023
Senator Scott went on to explain how the President and his administration's willingness to hand out cash to Iran is what helped create and fund the terrorism that Israel has been the victim of.
"His weakness invited the attack; his cash giveaways to Iran helped fund terrorism, and after the attack his administration suggested that Israel just stand down. It's a disgrace," Scott continued.
"We need a president who is loyal to our allies yet lethal to our adversaries because weakness has never purchased peace. Being passive is a provocation."
President Biden's foreign policy has been an utter disaster like Scott mentions.
His botched Afghanistan withdrawal back in 2021 and his willingness to dump billions of taxpayer funds into Ukraine, are examples of that.
Whether or not Scott's attack on the President will help boost him the polls, is yet to be seen, as his talking points are very similar to the rest of the GOP field's with this matter.
This also isn't the first time Tim Scott has gone after a political opponent in the name of foreign policy.
Not long ago, he blasted fellow Republican candidate Vivek Ramaswamy for proposing to minimize support of Israel.
"Vivek Ramaswamy has said the definition of success is reducing America's support for Israel, and he's proposed that we surrender Taiwan to the Chinese Communist Party as long as we relocated some factories."
Scott may be dwindling in the polls, but he's still not afraid to call out both parties for what he believes is poor foreign policy.
Stay tuned to The Federalist Wire.