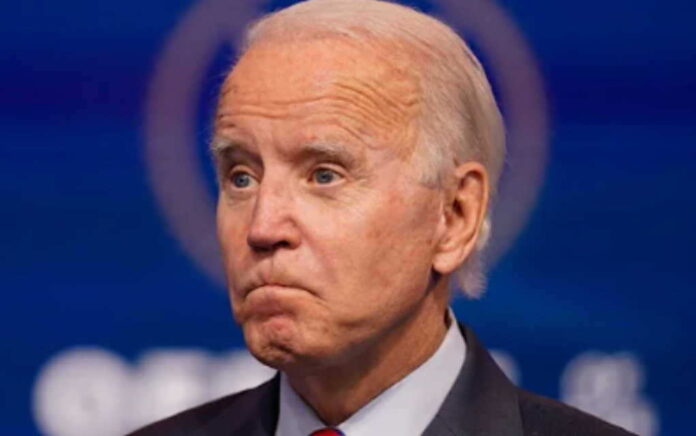 The Biden ship is sinking fast. Everything is falling apart at the seams.
And Biden couldn't believe his eyes after being blindsided with this wakeup call.
It seems as though Joe Biden is hellbent on driving America into the ground.
One unsung disaster has been his handling of the United States economy.
The inflation rate is still 3.1%, much higher than the usual targeted rate of 2%.
Meanwhile, the national debt is over $32 trillion, more than enough to bankrupt nearly every taxpayer if it were split evenly.
🇺🇸 US national debt today: $32.6 trillion

Debt per citizen: $97,467

Debt per taxpayer: $253,686

— World of Statistics (@stats_feed) July 29, 2023
The situation has gotten so bad that financial institutions are starting to get cold feet on the American economy.
On Tuesday, one of the "Big Three" credit agencies dropped the United States' rating by a tick, prompting rapid outrage from Biden administration officials who stated that they "strongly disagree" with the change.
Fitch Ratings reduced the country's Long-Term Foreign-Currency Issuer Default Rating from "AAA" to "AA+," potentially raising interest rates and borrowing costs.
It comes after the federal government nearly avoided a debt default earlier this summer and comes several weeks before a possible shutdown if a politically divided Congress fails to agree on spending for the upcoming fiscal year.
"The rating downgrade of the United States reflects the expected fiscal deterioration over the next three years, a high and growing general government debt burden, and the erosion of governance relative to 'AA' and 'AAA' rated peers over the last two decades that has manifested in repeated debt limit standoffs and last-minute resolutions," Fitch said in a release.
Fitch noted that "there has been a steady deterioration in standards of governance over the last 20 years, including on fiscal and debt matters, notwithstanding the June bipartisan agreement to suspend the debt limit until January 2025."
The credit agency, which had placed the United States' "AAA" rating on "negative" watch in May, cited other factors in announcing the change on Tuesday, including projections that "tighter credit conditions, weakening business investment, and a slowdown in consumption will push the U.S. economy into a mild recession."
Treasury Secretary Janet Yellen and the White House both issued remarks in which they stated that they "strongly disagree" with the adjustment. While Yellen described the decision as "arbitrary and based on outdated data," White House Press Secretary Karine Jean-Pierre entered the fray.
"The ratings model used by Fitch declined under President Trump and then improved under President Biden, and it defies reality to downgrade the United States at a moment when President Biden has delivered the strongest recovery of any major economy in the world," Jean-Pierre said.
"And it's clear that extremism by Republican officials — from cheerleading default, to undermining governance and democracy, to seeking to extend deficit-busting tax giveaways for the wealthy and corporations — is a continued threat to our economy."
It's been more than a decade since the United States was downgraded for the first and only time. S&P lowered the United States' long-term rating from "AAA" to "AA+" in 2011, citing "political brinkmanship" and the debt burden just days after then-President Barack Obama signed legislation to raise the debt ceiling just days before the country was expected to default on its financial obligations.
Republicans claimed the development was evidence of excessive spending and borrowing.
"Today's decision by Fitch Ratings to downgrade U.S. sovereign debt to 'AA+' is yet another sign that incessant and irresponsible borrowing to fund bigger government is not without real repercussions," Rep. David Schweikert (R-AZ) said in a post to X.
"I've been outspoken in my belief that we need to get America's fiscal house in order before it's too late. Fitch's downgrade should be seen as exactly what it is — a warning that continuing down the path of out-of-control borrowing will and does have serious consequences."
Stay tuned to The Federalist Wire.