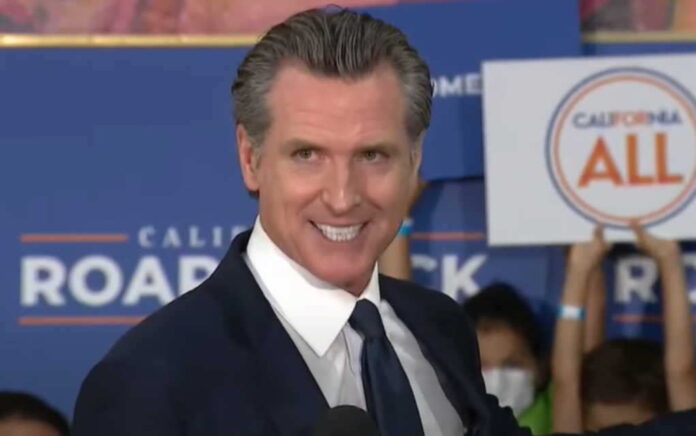 The Democrat Party is in desperate need of talent for the 2024 elections. But one of their stars made a bombshell revelation.
And a top Democrat revealed a shocking diagnosis that changes everything.
With just a little over a year until Americans decide whether they will kick Leftists to the curb or continue with another four years of failure, Democrats are getting worried.
As it stands, the Democrats are being led by Joe Biden, who is daily being questioned on whether he mentally and physically fit to serve.
And his constant ramblings and stumbling in speeches along with his inability to walk upstairs without tripping are only adding fuel to the fire.
Unfortunately, Democrats are severely lacking anyone popular enough to replace Biden in the bid for president.
California Governor Gavin Newsom has been one of the names tossed around, but he's been engrossed in scandals – and now he announced a medical diagnosis.
California Gov. Gavin Newsom's office revealed Wednesday night that he tested positive for COVID-19.
According to FOX 2 Oakland, Newsom is having just minor symptoms.
Further information about his condition was not immediately available, but his wife tested negative.
According to FOX 2, the governor will work remotely and self-isolate for at least five days, as recommended by the California Department of Public Health.
According to the CDPH, isolation can be lifted after the fifth day if a negative test is combined with no symptoms, albeit masks are required in indoor settings for 10 days.
This is the governor's second positive test for the disease; he also tested positive in May.
Newsom's diagnosis comes only days after he returned to the state on Sunday night after a "personal trip" to Mexico's Baja California – a choice that drew a lot of criticism as many Californians were affected by unprecedented winter storms that began on Feb. 21.
According to PowerOutage.us, over 12,000 people were still without power as of Thursday morning.
The majority of those affected live in Nevada County.
On Monday, the Democratic governor will begin his State of the State tour. According to California media reports, the tour is still going on as of Wednesday night.
According to the Los Angeles Times, Newsom will still have a virtual press conference with California Attorney General Rob Bonta on Thursday.
On February 28, nearly three years after the proclamation was issued, Newsom lifted California's COVID-19 State of Emergency.
Stay tuned to The Federalist Wire.