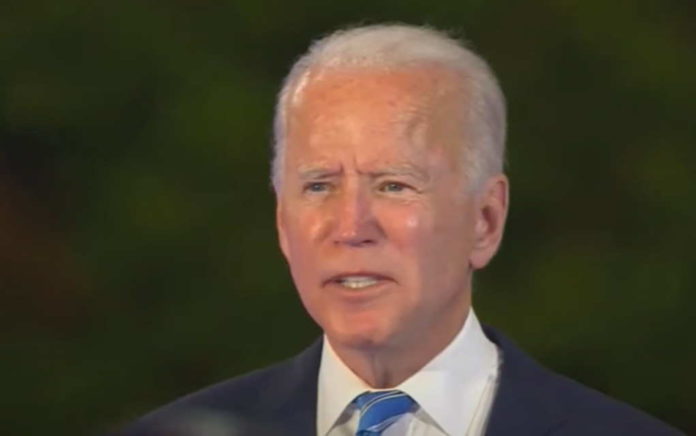 Biden has been adamant that he intends to run for President again in 2024. But he has another thing coming his way.
Because Joe Biden is to be ESCORTED out of the White House by the last person you'd ever suspect.
Democrats decided that getting Trump out of office in the 2020 election cycle was more important than anything else.
That's why they ran the risk of running the oldest Presidential candidate in U.S. history in Joe Biden.
They knew he would likely be a one term President, but that's all they wanted out of him.
They wanted him to be a puppet for four years and then move on.
The only problem is they haven't been able to move on from him and prepare another Democrat in his stead.
All of their options like Kamala Harris and Pete Buttigieg are proving to be even more toxic than Joe Biden for the 2024 ticket, which is insane.
So now the Democrats have the problem of a progressive base that absolutely does not want Joe Biden to run in 2024, while the establishment DNC is trying to figure out who else to run other than Joe Biden.
But the pressure is growing to kick Biden to the curb. And that pressure is now coming from Senator Bernie Sanders (I-VT).
According to the latest reports, a new campaign from a far-Left "progressive" organization tied to Bernie Sanders will be targeting Joe Biden to not run in 2024.
The campaign is called "Don't Run Joe."
The group, Roots Action, released a statement pulling no punches.
"The Don't Run Joe campaign begins advertising on New Hampshire's only statewide commercial TV station this week with a 60-second spot urging President Biden not to run for re-election," their statement begins.
The Roots Action national director, Norman Solon, said that Biden "should heed the voters of his party rather than simply declaring 'watch me' run for re-election."
They even acknowledge how awful Biden's approval ratings are and that he has little-to-no chance of surviving a 2024 run.
"His public approval ratings remain dismal, as they have been all year. No amount of bravado from the White House can change the severe vulnerabilities that a Biden 2024 campaign would face."
The in-fighting on the part of the Democrats was inevitable when Joe Biden was selected to run in 2020.
Though Joe Biden doesn't seem to be backing down, and without a clear replacement, he may very well be the 2024 pick for Democrats.
But regardless, this is an opportunity for conservatives to pick a strong candidate to run against the vulnerable Democrat in 2024.
Polls have shown Florida's Governor Ron DeSantis giving Joe Biden the business in a hypothetical matchup. A candidate like him is what Republicans need to recover from a few years of letdowns.
Stay tuned to the Federalist Wire.